Welcome
"Reflets de Jardin is a private garden on a 5000 square meter site, inspired by English-style gardens, with 2000 different plants, rare trees and shrubs, some of them with a remarkable growth or astonishing bark, maples, conifers, magnolias, rhododendrons, hydrangeas, rosebushes, perennials and grasses.
The water with the many varieties of water lilies invite to contemplation.
Many plant species metamorphose with the seasons this magical garden."
Our passion
How did botanics,
this « pleasant past-time » as Jean-Jacques Rousseau wrote, become a passion ? The first plot of land of 1200 square meters acquired in 1990 simply needed planting. Inspired by a plan designed by a landscape architect we started planting while developing a keen interest in horticulture.
Our approach
Horticulture from : Hortus « garden » and culture « culture » soon led us to visit tree nurseries of rare plants and haunt flower festivals in search of unique specimens while learning from specialized books.
Our aera
To the initial plot, another 800 m2 were added in 1994 then an extra 800 m2 in 2004, then 2200m2 in 2012 where the body of water was made in completed with a terrace shortly after and a deck surrounding it and allowing to wander close to the watesurface. Latest parcel of land, new setting, another garden to come...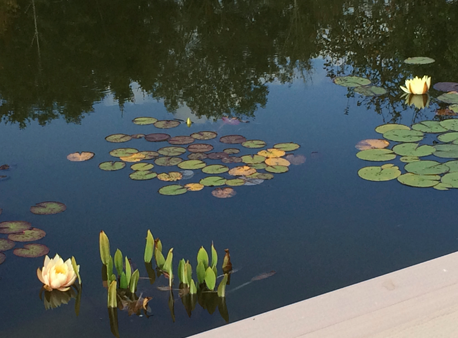 Our design
Embellished with many and always different plants, some small collections come out. The planting of rare trees and shrubs, of conifers and perennials, of textures and colors, of barks reflected in the water create pure emotion wich is the print left by this garden.
Innovations
A new rose tree created by the rose gardener Jean-Lin Lebrun of the nursery Mela Rosa bears the eponymous name of our park 'Reflets de Jardin'.
This rose bush has a bright green foliage, very healthy, on young shoots colored red-brown. Long, thin but sturdy stems give this rose an erect habit. Large pink-red semi-double poppies flutter on its summit from June to October and give it a very rural look. A sweet perfume coats them.
Reflets de Jardin get the label Jardin Remarquable in 2023.